*How far along?: 21 Weeks
*Total weight gain: 10 lbs
*How big is baby?: The size of a banana (which surprisingly is bigger than a cantaloupe at a whopping 10.5in and 12.7oz), which I just shared with Lillian for breakfast =)
*Maternity clothes?: Definitely.
*Sleep?: Still having craaaazy dreams. I had a dream this week that I was about to deliver the baby, and we were having a huge pajama party in my giant delivery room. I was up walking around and all our friends and the nurses were wearing their pj's having a big ol' party!
*Best moment this week?: Yesterday (3/10/11) I saw my belly jump for the first time! He was really moving around in there!
*Movement?: YES!
*Food cravings?: Nothing too crazy this week. I definitely have a sweet tooth.
*Labor signs?: Nope. Nada.
*Belly button in or out?: It's a bit shallow
*What I miss: Margaritas
*What I'm looking forward to: mostly nesting. Our schedule has been pretty crazy the last couple of weeks and I haven't been able to prepare anything :(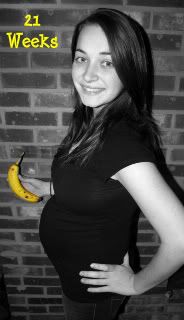 Banana baby!